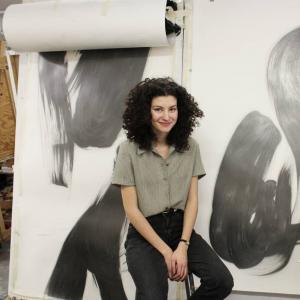 Gillian Toliver
Artist member since 2019
Toronto, ON
Gillian Toliver is a multidisciplinary artist currently working and living in Toronto. Recently graduating from OCAD University for Drawing and Painting, Toliver's thesis work Paper Skin Makes Me, Waver in The Breeze was awarded the Drawing and Painting Medal for 2019. Her works explores the complexity of self consumption and comfort through the weaving of hair. As an artist of mixed Scottish and Caribbean decent, Toliver's work explores spaces caught in the in-between, using the act of creation as a method to connect to gender, body and culture while reclaiming previously censored physical and mental environments.
Working in a variety of mediums, including drawing, painting and sculpture, Toliver uses mixed media as a method of acknowledging the multiplicity and fluidity of being.
---
Describe your home in 3 words
big fat orange
In a previous life I was (a) ...
Definitely a tiny bug or a bird. Something that either burrows and nestles into the earth endlessly, or that soars over it taking everything in at once. I often find myself desperately trying to get back to those sensations
Your favourite spot in Toronto right now
My bed
When I'm not making art, I'm (a) ...
Reading. Even while creating art I am often listening to audio books. I'd like to say these books are expanding my knowledge and feeding my craft but often they are deep dives into sci-fi and fantasy worlds....
Select Past Exhibitions
2019
2019
2018
2018
2018
2017
2020
2020
SHARE THIS ARTIST
What do you mean, "try"?
Try-before-you-buy with a 3 month rental. 100% of your rental payments go towards the purchase (interest free). Message the artist directly, and start the conversation.
---
Art made (truly) affordable
We make it easy for you to try art with smart payment plans and try-before-you-buy models.
See How It Works
---
You're covered.
Artwork protection is included on all art rentals up to $5K. Our Customer Care team is always here to help.
Contact Us
---
Unlock Trade Access
For industries including interior design, film/TV production, & real estate staging: rent original pieces that fit with your project vision, budget and timeline.
Apply for Trade Access
---
1% from every transaction goes towards SKETCH WORKING ARTS.